Bulk Up, Pack On and Jack Up Your Strength!
10 grams of ultra-pure creatine per serving
80g of multi-phase protein when mixed with skim milk
Contains ProHydrolase® for better amino absorption
14 delicious tasting easy-to-mix servings per container
Scientifically superior muscle building mass gainer*
Max protein plus 10g creatine for enhanced muscle size and strength*
20% better amino absorption with ProHydrolase®*
PRODUCT OVERVIEW
Since the formula was first released, Mass-Tech® Elite has proven so effective, it's become the stuff of legends among hard gainers for its ability to pack on muscle mass, size and strength. MuscleTech® researchers engineered this advanced muscle mass gainer for those who have struggled with adding size, are in their bulking phase or want to break through their strength plateaus. See the results from all your hard work in the gym – Mass-Tech® Elite delivers the highest biological value protein, along with the clean calories, carbs and creatine you need to bulk up, pack on and jack up your strength.*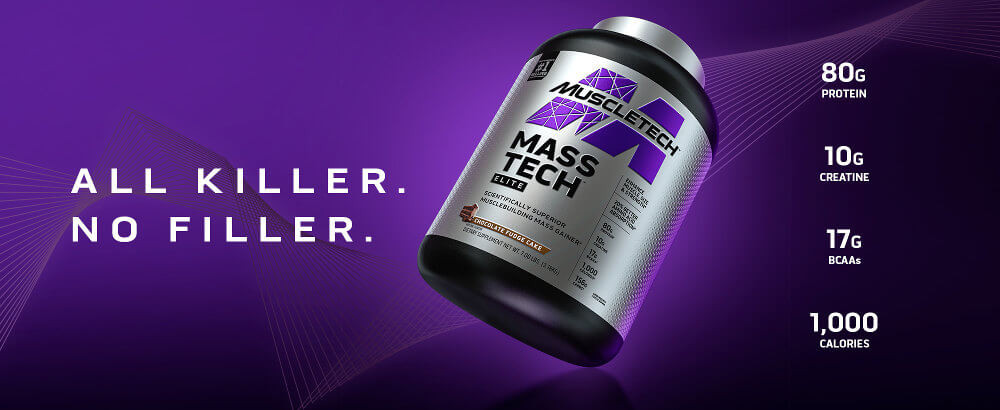 PRODUCT BENEFITS
More protein per serving than other weight gainers*
Enhanced with clinically proven HPLC-certified creatine *
Nutrient-dense, muscle building ingredients *
Superior, strength-enhancing mass gainer*
Maximize your gains with 20% better amino absorption*
Faster recovery time*
All killer, no filler—formulated to cover it all*
KEY INGREDIENTS
Sick and tired of putting the work in, but not seeing the results you're after? Hit a plateau? Looking to unleash your full potential? We've got you – this is the best, scientifically formulated gainer to help you build more size, mass and strength.
Click To Enlarge